Cab driver agrees to pay fine for swearing at woman
A Chicago cabdriver who suffered a fractured left cheekbone when a man hit him with a camera last year agreed Tuesday to pay a fine for swearing at a woman involved in the incident.
Walid Ziada, 36, accepted a plea deal from the city that requires him to pay a $600 fine and not drive a cab for four days. He also has to take an anger management class.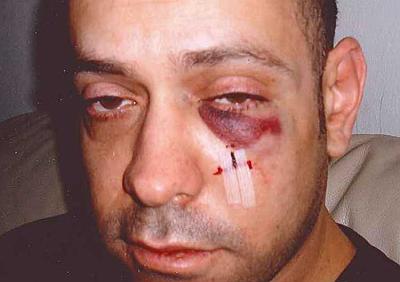 Ziada said he took the deal because "I don't want to risk losing my license."
The incident took place in January 2009. Jeffrey Bierbrodt, 39, said he came out of a bar in Lake View and began taking pictures of his friends and the street.
Ziada claims he told Bierbrodt to stop taking pictures of him, which led to Bierbrodt hitting Ziada in the face with a camera.
Bierbrodt claims that Ziada got out of his cab and came after him, and Bierbrodt was acting in self defense.
Ziada said another man with Bierbrodt, Bryan Ketter, also hit him. Ziada followed a car containing Bierbrodt, Ketter and others to a parking lot. The parties gave different versions of what happened next — with Bierbrodt and his companions claiming Ziada tried to run people over, while Ziada said they pounded on his cab.
Ketter was found guilty of misdemeanor battery, but Bierbrodt was acquitted.
The United Taxidrivers Community Council, a driver advocacy group, has highlighted the Ziada case as an example of the problem of violence against cabdrivers.
Both Bierbrodt and Julie Wayland, 41, of Lake View, one of the other people in the car, complained about Ziada to the city's Department of Business Affairs and Consumer Protection, accusing him of unsafe driving, abusive behavior and discourteous conduct. The city dismissed Bierbrodt's complaint and all but one count of Wayland's.
"I'm glad that he has to take an anger management class because I think he clearly needs it and at least for four days he'll be off the road," said Wayland. "I really think he drove recklessly."
Ziada has filed a civil suit against Ketter and Bierbrodt.
Ziada is currently the defendant in a personal injury lawsuit filed on behalf of Chicago attorney Tom Leahy, in a separate incident. The suit claims that Leahy's daughter was a passenger in a cab Ziada was driving on Feb. 7, 2008. The cab broke down on the Kennedy Expressway, and Tom Leahy came to get his daughter in his car.
The suit claims that in attempt to collect the fare, Ziada reached into Tom Leahy's car to get grab the ignition key, and in the process, hit Leahy in the jaw.
Ziada admits he grabbed for the key after Leahy had made an obscene gesture when Ziada asked for his fare. But Ziada, while admitting he "made a mistake" in grabbing for the key and not just calling police, denies he hit Leahy.