Taxi man Les back behind the wheel
LES Forbes loves what he does. And he will never let anything stop him from doing it.
The affable 58-year-old is back behind the wheel of his trusty taxi after conquering the physical and emotional demons of a horrific late-night robbery and assault.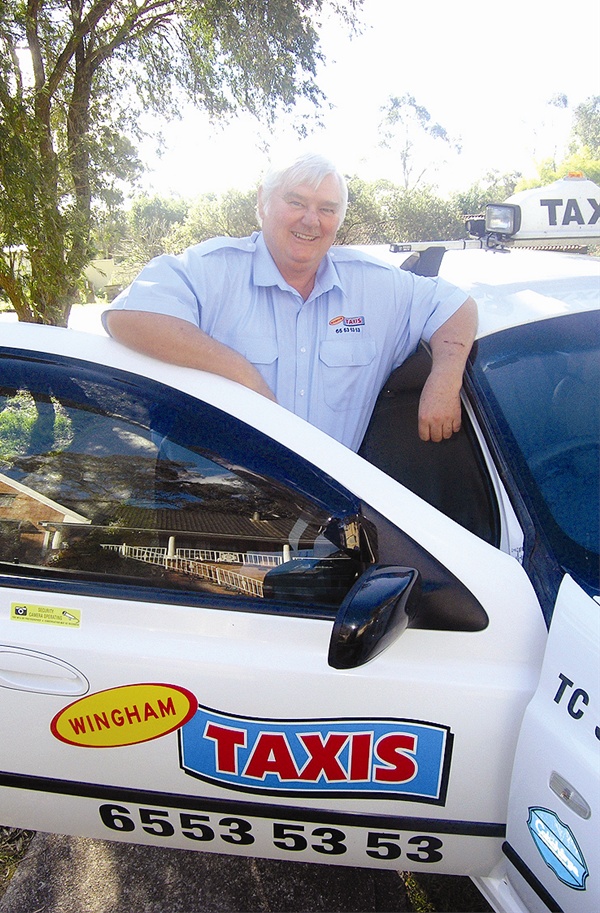 Les was bashed by the passengers he was driving from Taree to Wingham at midnight on April 23. He was punched repeatedly in the head and a knife was used to sever tendons and nerves in his hand. His vehicle was stolen and later found abandoned in bushland near Cedar Party.
It was an incident that shocked the Wingham community, and threatened to end Les' days as a taxi driver.
But according to Les, there was never any question of throwing in the towel.
"Getting back behind the wheel, it was a decision I had to make," he said. "I was not going to let (the assault) stop me from doing what I love to do. I had to prove it to myself. "
Les is a builder by trade, but has been driving with Wingham Taxis since December last year. Prior to that, he spent two and a half years travelling to Newcastle on weekends to drive for his brother's taxi company. He loves what he does.
"It's the variety of people you get to meet and talk with," Les said. "The conversations you have with your passengers are amazing. You can talk about anything. Politics, life . . . you meet some interesting characters."
The April 23 assault is currently in the hands of Taree detectives. No-one has been charged with the crime yet.
The Chronicle understands that Les picked up several passengers from a Woola Road address in Taree at 12am on April 23. The passengers then asked to be driven to Wingham.
The passengers told Les to pull over in front of the Wingham Pool. Les was punched in the head a number of times. One of the offenders held a knife to his throat. Les attempted to push the knife away. The blade severed tendons in his hand. Les stumbled out of the vehicle.
The perpetrators fled the scene in the stolen taxi.
"After that, I was just pacing the footpath in front of the (Wingham) pool holding my hand," Les said. "There was blood everywhere. I was just operating on adrenaline."
Les was taken to Manning Hospital before being transferred to John Hunter in Newcastle for microsurgery on his hand.
"They had to rejoin the ligaments and the nerve canal in my fingers," Les said. "I was down there for a couple of days. My hand ended up in a cast and I had very little movement."
Les spent 12 weeks going to physio and specialist appointments in Newcastle. It has been a long recovery period.
Though the nerves are still repairing themselves, Les now has 100 per cent movement in his hand. He has been back at work for Wingham Taxis for just under a month now.
He will embark on his first weekend fare to Newcastle on Saturday.
"I just want to thank the Wingham community for their support," Les said. "The number of phonecalls and cards of support our family received was incredible.
"It has been really touching to be sitting on the taxi rank and have people come up and tell me it is good to see me back."
Source:  winghamchronicle.com.au